Euro NCAP, or the European New Car Assessment Programme to give it its full name, is an independent crash-test safety body, which rigorously assesses the safety of new cars, and helps to further the advancement of car safety technology.
With safety at the forefront of all car makers' minds, and many firms and organisations signing up to the 'Vision Zero' initiative – which aims to eliminate all deaths and serious injuries from our roads – Euro NCAP's test programme is an ever-evolving one, with its architects periodically updating crash-test regimes to ensure cars are assessed using the most stringent criteria possible. 
The current Euro NCAP safety regime includes a dual rating, with cars tested both with and without various high-tech safety features. This means some cars may get five stars if they are configured with autonomous emergency braking, for example, but drop to four stars for the second rating if this feature is not standard.
To get a second optional star rating on a car, manufacturers just have to confirm that they expect the extra safety technology (defined as a 'safety pack') to be fitted on at least 25 per cent of models sold. 
The first dual safety rating was in April 2016 for the Suzuki Baleno – the car gained a three-star safety rating for its standard safety equipment and a secondary four-star rating for the optional safety pack.
More updates were announced in May 2020, with the most significant change being a new moving, deformable barrier test that assess whether larger, heavier cars put occupants of smaller vehicles at significant risk – an idea known as 'compatibility'.
With SUVs continuing to grow in popularity, and EVs with their heavy battery packs becoming an ever-more common sight on the roads, this compatibility check is designed to ensure drivers of small hatchbacks and city cars – which continue to make up a huge proportion of new-car sales – are as well protected as possible. 
At the same time as the compatibility test being rolled out, more advanced assessments of autonomous emergency braking systems were introduced, while a new £600,000 crash-test dummy called THOR (Test device for Human Occupant Restraint) is now being used in Euro NCAP tests for the first time in order to better represent how human bodies behave in collisions – an idea known as 'biofidelity'.
With manufacturers employing more active safety tech in their cars, Euro NCAP has also introduced a new set of safety tests that assess how well systems such as adaptive cruise control and lane-keep guidance work. It aims to give greater clarity to drivers in a market riddled with different system names and functionalities.
The grades given to a car's safety assist technology won't affect a car's overall Euro NCAP star rating, partly as many of these systems are optional. Instead, cars will be given a mark based on how well the systems work, and how accurately they are marketed to consumers. How effectively the systems perform when the driver overrules them by altering the car's course is also assessed, and the tech is given an overall grade of Very good, Good, Moderate, or Entry.
The three areas assessed are:
Vehicle assistance: how effectively the systems work during normal operation.
Driver engagement: how accurately systems are marketed; how well the car monitors if the driver is paying attention (EG hands on the steering wheel); how intuitive systems are; and how clear it is if the system is active or inactive.
Safety back-up: how well the systems perform if in an emergency, such as if the driver losing consciousness, if the system fails, or if a collision is about to occur.
What is the Euro NCAP crash test programme?
The reassurance of a top five-star crash safety test result is a hugely important factor for anyone choosing a new or used car these days. Before 1997 though, the idea that UK car buyers could compare actual crash performance of cars and safety systems from rival manufacturers was just a pipe-dream.
The consumer-focused US administration was way ahead, setting up its own New Car Assessment Program to independently crash test cars and provide comparative results to buyers as long ago as 1979. 
• Comparison sites: can motorists trust them?
Amazingly, it took the Europeans almost 20 years to catch up, and the Euro New Car Assessment Programme (Euro NCAP) was founded in 1996, with the first comparative crash tests – featuring seven of the most popular superminis – published in 1997.
At the time, carmakers were up in arms, claiming the Euro NCAP tests were unfair and much too harsh. Since then, Euro NCAP has crash tested more than 700 individual cars, and as carmakers compete for crucial star ratings, the safety tech advances have come thick and fast.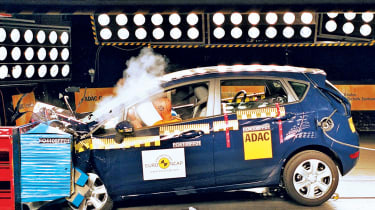 It wouldn't be fair to give Euro NCAP all the credit for the process of improving car safety, but there's general agreement its well-publicised crash test programme was a game changer, bringing safety to the forefront of consumers' minds. Euro NCAP has certainly had a significant role in improving car safety standards.
From the outset, Euro NCAP was determined not simply to measure crash safety performance, but to play a part in driving the science forward and help to save lives.
For that reason the organisation has always maintained that cars only meeting current crash safety legislation would receive a zero star rating. To score more highly, cars need to go above and beyond those basic statutory requirements.
Euro NCAP tests – general overview
Euro NCAP provides crash safety scores as a percentage rating so you can compare the results between different makes and models that have taken the same tests. Ratings are awarded in each of the following four categories: 
1. Adult Occupant Protection
The Adult Occupant Protection rating is based on crash scenarios that simulate frontal impact (off-set and 'head-on'), crashing side-on into a moving object, and hitting a fixed object like a lamp post or telegraph pole. Whiplash protection and the effectiveness of Autonomous Braking Systems are also factored-in.
2.  Child Occupant Protection
This score is based on three factors, namely the protection provided by child restraint systems in front and side impacts, the ability to accommodate restraints of different sizes and design, and provisions within the vehicle that facilitate safe use of child seats. (E.g ISOFIX child seat anchorages, airbag deactivation systems and clear labeling of such features)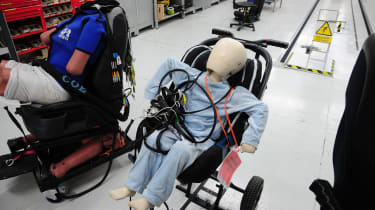 3. Pedestrian Protection
Euro NCAP determines the safety of new cars from a pedestrian's point of view by assessing the risk of injuries to head, pelvis and legs from various front-end structures including the bonnet and windscreen, bonnet edge and bumper. More points are awarded if Autonomous Emergency Braking systems mitigate the injury.
4. Safety Assist
This score is compiled from the driver assistance technologies that Euro NCAP has determined as offering the greatest safety. It monitors the inclusion of everything from seatbelt reminders to more advanced systems like Electronic Stability Control, Speed limiters and warnings, Lane Keep Assistance and Autonomous Emergency Braking.
How to compare the Euro NCAP test scores
Just as cars are evolving the Euro NCAP crash tests are regularly updated to keep pace and give the most useful results to consumers. This can create some problems when comparing cars tested under different Euro NCAP regimes. 
Existing Euro NCAP crash test scores remain valid for the lifetime of the vehicle. Newer versions of a car will be introduced and re-tested but the test results of older models do not changes when the new star rating is awarded.
As results are currently configured, you can look at the overall star rating for a swift comparison between models, but also make a more detailed comparison of percentage scores in each of the four main test categories. The Euro NCAP website also provides detailed breakdowns of how those category results were determined and videos of the crash tests themselves. There are important things to remember when comparing Euro NCAP crash test results though…  
When NOT to compare Euro NCAP scores
We've already described how the Euro NCAP crash tests have evolved over time, becoming more stringent and covering more ground with each change to the rules.
This means it's not always easy to make a direct comparison between cars that have undergone different versions of the tests. For example a model tested before the 2009 rule shake-up could have scored five stars purely on the basis of good scores in the impact tests. If the same model was tested under the new rules a month later, it might have scored only four stars because – for instance – it didn't feature Electronic Stability Control (ESC).
It's the same deal with cars tested before late 2020, when the latest round of assessments were rolled out. With heavy cars now penalised if they are judged to damage smaller vehicles in collisions, and stricter AEB assessments now in place, today's rules are far tougher to meet than earlier testing regimes. Comparing cars that were tested under the same assessments and sit in the same class remains valid, and is a comparison many new-car buyers make, but it's important to remember that high scores achieved on earlier versions of the test may not be replicated if the same model was re-tested today. 
• How to jump-start your car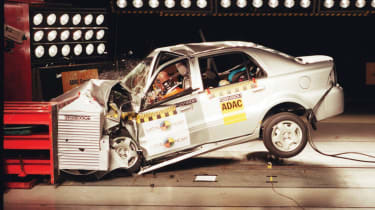 Further details on changes to the test can be found by checking the Euro NCAP website, with the organisation highlighting under which regime a car was assessed.
The 2009 changes did attract some criticism as Euro NCAP made no attempt to re-classify cars tested under the old rules so more direct comparisons could be made with models tested later. However Euro NCAP claimed consumers realised that safety technology evolves like any other, saying "our ratings are always time related, just as if you were buying a washing machine – one bought today will always be better than two years ago".
There are also details of other key changes to the tests on the NCAP website such as testing of ESC systems in 2011, rewards for fitment of Automated Emergency Braking (AEB) systems from 2014 and the introduction of the full width crash test in 2015. 
The official Euro NCAP star rating 'verdicts'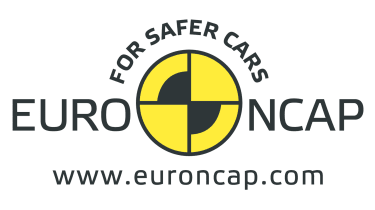 5 stars safety: Overall good performance in crash protection. Well equipped with robust crash avoidance technology
4 stars safety: Overall good performance in crash protection; additional crash avoidance technology may be present
3 stars safety: Average to good occupant protection but lacking crash avoidance technology
2 stars safety: Nominal crash protection but lacking crash avoidance technology
1 star safety: Marginal crash protection
Euro NCAP: history
Getting to this point has been a long and often bumpy road for Euro NCAP. The New Car Assessment Program had its roots in the US in 1979, but was quickly championed in the UK by the late Max Mosley, president of the Fédération Internationale de l'Automobile (FIA). At that time, as now, the auto makers had to build cars that complied with all the regulatory safety standards, with some such as Volvo doing more than others. But there was no independent validation.
So a fledgling Euro NCAP acquired the latest popular models, attached them to a high-speed sled and catapulted them into a sturdy stationary object. High-speed cameras recorded every deformed structure, bent panel, ankle breaking pedal box and ineffective airbag in extreme detail, all to be subjected to later analysis.
The testing was far tougher than anything required for normal Type Approval, and for good reason: 25 years ago there were huge differences in cars' passive safety – how they behaved when they crashed. Euro NCAP's mission was to highlight the discrepancies in the most transparent and public-friendly way it could.
The first model tested in 1997 was a Volkswagen Polo, which was awarded three stars for adult safety. The second car tested was a Rover 100 – and that didn't go so well. The diminutive Rover (really a rehashed Metro) was famously given only one star – the first of an infamous few vehicles over the years to fall foul of the testing and be publicly shamed. Euro NCAP has never wavered from shouting its results from the rooftops – bad, as well as good. The substandard Rover was killed off soon after.
Unsurprisingly the auto makers reacted against Euro NCAP. The consensus at the time was that it was sufficient for cars to comply with the regulatory safety standards, and some critics even maintained that it was impossible to make a vehicle that scored maximum stars.
Volvo proved that notion wrong when its S40 saloon gained four stars (the maximum at the time), and then in 2001 the Renault Laguna II became the first car to score the newly introduced five stars – in large part because it featured curtain airbags. That same year the equally new Mercedes C-Class scored a mere two stars, and for many the established order of things was turned upside down.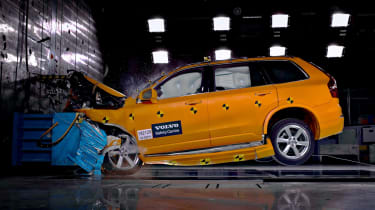 Thanks to growing public awareness, suddenly safety sold cars – proving wrong what many in the industry had long believed. The car-buying public had a new metric in helping them decide which model to choose.
What began as a measure of injury potential to driver and front passenger now embraces rear passengers
and children as well, in simulated crashes from both the front and the side, as well as the protection a car affords pedestrians and cyclists. Today more vehicles are tested, more often and in more ways than ever before, backed
by assessment of burgeoning 'safety-assist' features. And things are only going to get tougher.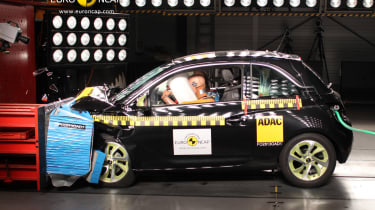 Euro NCAP timeline
| | |
| --- | --- |
| 1997 | First results released. Before this, all you had was crash into a wall head on with no need for a dummy |
| 2001 | Pole impact test introduced |
| 2001 | Seat belt reminder assessment brought in and Renault Laguna becomes the first five-star car in Adult Occupant Protection |
| 2003 | Euro NCAP launches Child Protection Rating |
| 2007 | First ever Europe-wide ESC fitment survey released |
| 2008 | Testing pick-ups begins and Euro NCAP releases results of first whiplash protection tests |
| 2009 | New overall star rating including Safety Assist introduced |
| 2011 | Euro NCAP begins testing electric vehicles and makes ESC tests mandatory in the star rating |
| 2014 | AEB included in the rating and safety tests on Heavy Quadricycles begin |
| 2015 | Euro NCAP introduces new full width frontal test |
| 2016 | Safety rating expanded by including AEB technology for pedestrians. Dual rating introduced as well as two new child dummy sizes in the crash tests representing a six and a 10 year old child. |
| 2020 | New tests introduced to check heavy cars don't damage lighter ones too much; AEB checks toughened up; new crash-test dummy used; driver monitoring systems assessed |
The future of Euro NCAP: Vision 2030
Euro NCAP doesn't stand still and the next few years will mirror what's gone before with a continual series of changes and additions to the testing regime. There's going to be increasing emphasis on the testing of car safety systems with a focus on the driver monitoring tech that identifies distraction or impairment in drivers and on real-world application of speed assistance technology.
Crash tests wil be refined to better assess the safety of people of all genders and ages. There will be an assessment of fire risk in electric vehicles and a rating for models on how they give better information to first responders at the scene of an accident. Euro NCAP will even branch out to rank cars for their data security and protection from computer hackers.
Euro NCAP in numbers
| | |
| --- | --- |
| 15000 | Number of lives saved on UK roads thanks to Euro NCAP |
| 629 | Number of models assessed by Euro NCAP since 1997 |
| 4 stars | Volvo S40 became the first four-star car five months after launch of Euro NCAP |
| 9 out of 10 | Cars sold in Europe that have a star rating |
| £600,000 | Cost of new Thor dummy introduced in 2020 – it was 20 years in development |
| 54,000 | Estimated lives saved over the next 20 years with AEB standard on every new car sold in the UK |
Now check out our round-up of the safest cars on sale today…