Verdict
The Volvo XC60 Mk 1 was the Swedish car maker's first attempt at a mid-size premium SUV, and the end result is a fairly well-rounded car. The roomy and well-built interior made the Volvo XC60 a solid choice if you were shopping around for a new upmarket family car, as did its impressive for the time safety equipment specification.
Comfort is an area where the Volvo XC60 Mk 1 fares well, too. The supple ride does a good job at filtering out bumps in the road, which in conjunction with the good noise insulation makes the Volvo quiet and cossetting on long motorway journeys. The trade-off for this is the XC60 isn't the most fun-to-drive family SUV – even versions with the stiffer suspension on the sportier R-Design trim level.
Which one should I buy?
Best Volvo XC60 for fuel economy 2.0 D4 SE Start/Stop
Best Volvo XC60 for performance T6 AWD R-Design Geartronic
Best Volvo XC60 for towing 2.4 D5 AWD SE Start/Stop
The Volvo XC60 Mk 1 went on sale in the UK in 2008, with the original entry-level versions starting from £24,750. At launch, the first-gen XC60 was available with three exclusively all-wheel-drive powertrains (two 2.4-litre diesels and a 3.0-litre petrol), and could be specified in S and SE trim levels, with the latter spec also coming in a slightly plusher SE Lux variation. In 2009, an R-Design trim level was introduced, which gave the XC60 a slightly sportier feel thanks to its firmer suspension.
More reviews
Car group tests
In-depth reviews
Road tests
Used car tests
Throughout the car's lifecycle, the engine selection was tweaked, with features such as fuel-saving stop/start technology, front-wheel drive and manual gearbox options added, alongside additional engines. In May 2009, an efficiency-focused 2.0-litre diesel was introduced to the range, and a pair of 2.0-litre diesel options were added from August 2010. Prospective petrol Volvo XC60 buyers were given a bit more choice in March 2011, with the introduction of a new 2.0-litre turbo-petrol offering.
In February 2013, the Volvo XC60 Mk 1 was also given a mid-life facelift that gave the car's exterior a more rounded look, and introduced subtle detail changes such as a reworked sat-nav display and an eight-speed automatic gearbox that replaced the previous six-speed automatic. As part of this update, the range-topping 3.0-litre petrol was replaced by a turbocharged and supercharged 2.0-litre petrol engine.
In comparison with many of its rivals, the first-gen Volvo XC60 was a long-running feature of the Swedish car maker's line-up, with Volvo still selling the car until 2017. Its replacement arrived in April that same year, in the form of the second-generation Volvo XC60, which improved upon its predecessor with a plusher cabin, a more striking exterior design, a broader selection of trim levels and new plug-in hybrid engine options. However, it was also a bit more expensive than the outgoing model.
What are the alternatives?
One of the Volvo XC60's main rivals when new was the first-generation Range Rover Evoque. Like the Volvo, the Evoque is a smartly styled upmarket SUV with a plush cabin and good amounts of equipment. However, the Volvo boasts better on-paper fuel economy and reliability is an issue on the Evoque.
Other premium options to the Volvo XC60 include the Audi Q3, which brings to the table a well-built interior and lots of efficient engine options. If you'd prefer your premium family SUV to be engaging to drive, the BMW X3 is also a worthy shout, although we'd recommend the more well-rounded Mk 2 version over the original Mk 1 model.
Don't discount offerings from more mainstream car brands, either. Worthy contenders if you're open to a used family SUV without a posh badge on the boot lid include the Ford Kuga, Honda CR-V, Kia Sportage, Nissan X-Trail, Toyota RAV4 and Volkswagen Tiguan.
Volvo XC60 vs Volkswagen Tiguan vs Land Rover Freelander
When an ultra-efficient 'DRIVe' diesel engine was added to the Volvo XC60 range in 2009, we pitted the frugal family SUV up against two of its main rivals: the Land Rover Freelander and the Volkswagen Tiguan. The Volvo finished last in this group test, because we felt the XC60 wasn't as well-rounded as its Land Rover and Volkswagen competitors, even though we were impressed with the car's strong performance and low CO2 emissions. Read the full test here…
Volvo XC60 vs Audi Q5 vs BMW X3 vs Land Rover Freelander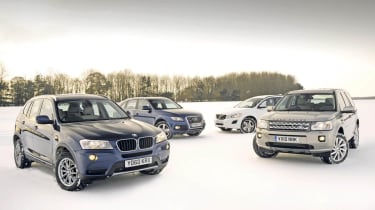 In our wintry 4×4 showdown in 2010, the Volvo XC60 went up against a suite of premium SUV rivals. Overall, we appreciated the Volvo's smart styling, well-finished interior and impressive suite of safety tech, but we put the XC60 in last place due to factors such as the jerky automatic gearbox and unrefined diesel engine. Read the full test here…