Used car retailers were urged to be aware of the "risks around affordability" as motorists seek out older, more affordable cars to mitigate against the continued rise in values.
The latest market analysis from online automotive marketing platform eBay Motors showed that the average advertised price of used cars rose 2% to £17,610 in November with hard-to-source vehicles aged under two years driving the increase with a 3% uplift to £35,425.
But as a slowing down of stock turn was attributed to "seasonal trends" eBay Motors marketing director Lucy Tugby suggested that retailers need to be aware of a recessionary mindset which is starting to change buyers' behaviour.
"Despite turbulence in the wider economy, with rising inflation, energy costs and the prospect of a looming recession, the used car market remained remarkably stable in November," Tugby said.
"We believe the easing of consumer demand has more to do with seasonal trends than the impact of the cost-of-living crisis as days to sell remained stable.
"However, dealers should be aware of risks around affordability, as our data shows that consumers are increasingly looking at older vehicles to offset the rising cost of cars and reduced disposable income."
Auto Trader reported that the average value of a used car advertised for sale on its platform reached £17,801 last month, which was down on the previous month in a trend said to be "in-line with seasonal trends" and up 4.7% year-on-year.
Year-on-year comparisons of eBay Motors' data showed that prices across Motors.co.uk dipped just 1% on November 2021, which was 16% up on 2020, when the average was £15,165.
Month-on-month, car retailers' days to sell increased by just one day to 39 days during November, compared to 37 days in the previous November.
Car supermarkets sold vehicles in an average of 29 days, compared to 32 days in the franchised sector and 48 days among independents.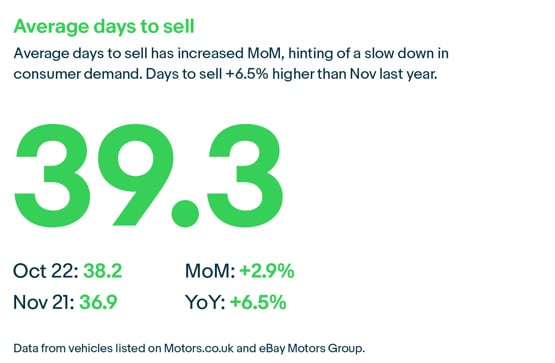 Volkswagen's affordable e-Up electric vehicle (EV) spent just 10.5 days on dealer forecourts, making it November's fastest-selling used car.
The Ford Galaxy (11 days) and Vauxhall Mokka X (14 days) followed in a top 1-0 fastest selling cars ranking which featured no fewer than four EVs.
This contrasts market commentary which suggests that the added expense of EVs – and rising energy costs – are putting used car buyers off making the switch to a zero-emissions vehicle.
Despite car retailers' ongoing stocking headaches in a sector that continues to battle new car supply issues, eBay Motors said that average stock volumes had increased by just one unit to 52 in November, but remain down 7% year-on-year.
Franchised and independent stocks remained virtually unchanged at 72 and 37 units, while car supermarkets increased by 12% from 352 to 393 units, although their stocks were down 22% YoY.
Diesel continues to fall as a proportion of all dealer inventories, down 3% YoY to 40%, while electric and hybrid doubled their combined share from 3% to 6%.