Motorists' responses to a survey conducted by Close Brothers Motor Finance suggests there is "overwhelming public backing" for an extension of the first MOT test from three years to four.
But suppliers from the automotive aftersales sector have continued to highlight the road safety risk and potential impact on aftersales providers in introducing the potential shift, which is currently the subject of a consultation being run by the Department for Transport (DfT).
According to responses from 305 motorists in the survey carried out for Startline by APD Global Research, 71% believe modern cars remain safe up to four years old without being tested.
Reducing costs does not seem to be a major motivation, even in the midst of the current cost-of-living crisis, however. Just 36% said it would lead to savings for motorists.
Startline Motor Finance chief executive Paul Burgess said: "There's clearly overwhelming public backing for this move, according to our findings.
"This puts the public very much at odds with the motor industry, which generally believes that a three-year MOT is essential and has been very vocal in criticising the idea."
Research published by the Institute of the Motor Industry (IMI) this week insisted that the motor industry was "unanimous" in voicing fears over road safety if first MOT date extended.
"We received a resounding confirmation – 87% – from our members that the first MOT should not be extended due to increased road safety risk", asserted Hayley Pells, policy manager at the IMI.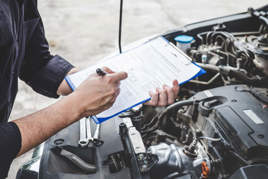 "And whilst only 51% of motorists we surveyed felt the same, we believe there is sufficient weight of evidence to give the Department for Transport a very clear indication that any change to the start date would be detrimental for all road users."
The IMI member research also highlighted the potential economic risks of a change to the MOT start date with 88% of automotive aftersales businesses stating that extending the date of the first MOT would have an impact on garage income.
Almost two-thirds (60%) said a potential fall in MOT business will negatively impact the volume of service work to their garage.
Pells added: "Whilst one-in-five respondents who run MOTs from their business believe it is fair to assume that any fall in the number of MOTs will free up garage staff and allow them to complete other tasks, the reality is that, for nearly two thirds, a quarter of their income is dependent on doing MOTs. 
"The wider economic risks of any change cannot, therefore, be ignored."
Close Brothers Motor Finance's data suggests that consumers are less anxious about the potential shift, however.
Burgess said it appeared drivers have "a high degree of confidence in the ability of modern cars to resist any kind of treatment", believing that major faults are unlikely to arise by extending the test for a year.
But he added: "While many cars fly through their three-year MOT test and are still very much in a roadworthy condition when they pass the four-year mark, others don't.
"You can talk to almost any motor mechanic and hear horror stories about what they have found when they have put cars up on the ramp for their first MOT – from failed suspension parts to tyres with literally no tread.
"It's worth remembering that many cars of this age, especially those used on business, have covered a substantial number of miles."