New car registrations increased by 16.7% in May, but the private market dropped slightly by 0.5% and fleets are driving the market with growth of 36.9%.
The latest figures from the Society of Motor Manufacturers and Traders (SMMT) shows that a total of 145,204 new cars were registered in the month.
Battery electric vehicles (BEVs) experienced significant growth, up 58.7% to 24,513 units. 
Plug-in hybrid (PHEVs) registrations increased by 23% to 9,025 units, and hybrids (HEVs) followed with growth of 22.2% to 17,792 units.
There are now 121,268 registered BEVs on the road in 2023 compared to the 92,512 at the same point last year, a 31.1% increase.
With sales of electric vehicles growing, diesel fell from 7,614 units to 5,758 (-24.4%), but petrol has risen from 56,767 units to 59,766 units (5.3%).
MORE> Market sales data
Mike Hawes, Society of Motor Manufacturers and Traders (SMMT) chief executive, said: "After the difficult, Covid-constrained supply issues of the last few years, it's good to see the new car market maintain its upward trend and the fact that growth is, increasingly, green growth is hugely encouraging.
"Transforming the market nationwide, however, and at an even greater pace means we must increase demand and help any reticent driver overcome any concerns about electric vehicles. This will require every stakeholder – industry, government, chargepoint operators and energy companies – to play their part, accelerating investment to drive decarbonisation."
Sue Robinson, chief executive of the National Franchised Dealers Association (NFDA), said: "The positive momentum in new vehicle sales has continued with franchised dealers seeing strong growth across electric vehicles, hybrids and petrol vehicles.
"This is a trend we expect to continue through the summer months."
Robinson said charging infrastructure still remains the "main issue" on the showroom floor when dealers are advising customers on their next choice of vehicle.
She added: "The NFDA is working closely with the UK government and other automotive bodies to ensure that UK consumer's concerns about EVs are being addressed and we are confident that our members will help the UK to achieve the transition."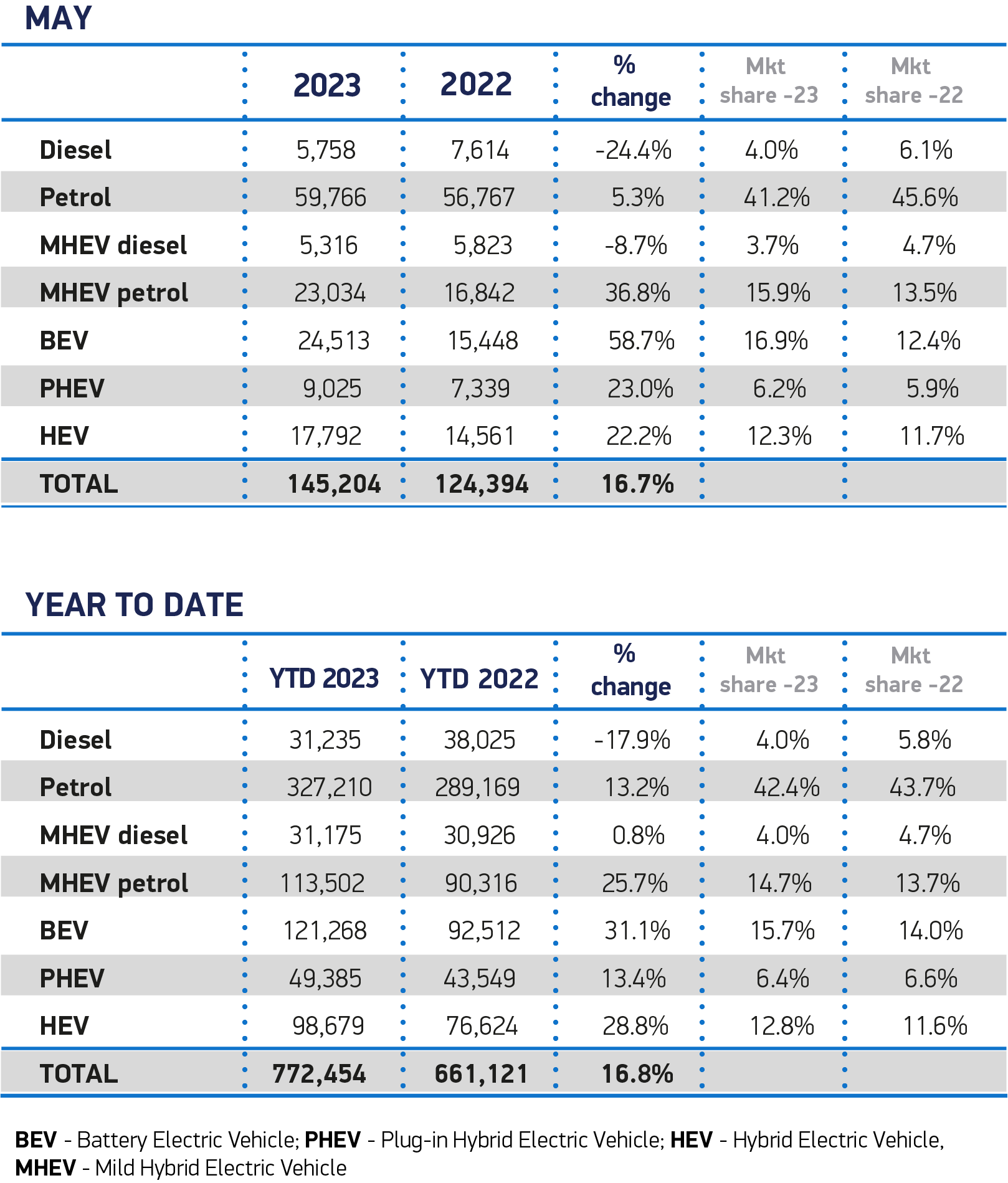 Ian Plummer, commercial director at Auto Trader, said that while it is great to see another month of solid sales, the continued strength of the new car market will soon depend on "substantial order growth in the electric segment". 
Plummer said: "Sales of EVs are moving in the right direction but we need to see sustained momentum – less than 10% of new car enquiries are for EVs on Auto Trader currently.
"To unlock mass adoption of EVs, we need to focus on the segments of society being left behind in the electric transition. 
"Our research shows that just one fifth of women are considering an EV, opposed to a third of men.
"Women are seeing less information about EVs and not engaging with current selling points.  In order to reach the government's 2030 goal, the focus needs to be on converting the masses and making EVs more accessible across different demographics."