Jaguar Land Rover (JLR) retailers have expressed uncertainty about the future scale of the 4×4, premium and luxury British carmaker moves towards an agency model future.
Last year JLR confirmed it will move to agency model distribution by 2024, and has revealed plans to restructure its retail partner's vast Arch Concept showrooms to accommodate brand zones, but uncertainty remains about potential cuts to the network.
While one retailer told AM this week that reports of cuts from the current 83-site network down to between 18 and 20 were "probably on the money", another said the figure was "off the mark".
Either way, it appears that a portion of JLR franchised car retail network partners that have aligned with the British carmaker's demand for an ambitious corporate identity (CI) dealership redevelopment project estimated to cost in excess of £1 billion, are likely to be left out of pocket.
JLR would not discuss the scale of any proposed cuts with AM, instead releasing a statement which said: "It is too early to disclose any further details as we have only begun discussing the matter with our retail partners.
"The first of the new, all-electric Jaguars will be revealed before the end of 2024, and will be with customers in 2025. We will tell you more about Jaguar's future before the end of this year."
The statement added: "Jaguar Land Rover is reimagining the future of Modern Luxury by design through its two iconic British brands.
"As part of our Reimagine strategy one of our key objectives is to establish new benchmark standards in customer service for the luxury sector. We will adapt our customer journey for our future clients, providing multiple touchpoints, delivering leading luxury experiences and creating a customer centric culture.
"Our objective is to build a stronger and more sustainably profitable Jaguar and Land Rover network for the future."
Consolidation a 'huge blow'
Last year AM reported that a lack of tranparency surrounding JLR's global retail plan had its franchised dealers 'business planning in the dark'
Speaking to AM about JLR's move to agency model retail last summer, one AM dealer source said: "It would be a huge blow to franchisees who have spent considerable sums on rolling out the Arch Concept and buying neighbouring businesses to help consolidate the network to this point if there were terminations and closures.
"As it stands today, we don't really know what the plan is, but we're keen to engage with the brand and find out more."
AM sources said last some that the impact of retail agreement changes to their used car operations were an area likely to be a point of contention.
One told AM: "Taking used cars from franchisees would be a crazy move. I really hope they don't try to impose that."
This week AM's sister title Fleet News reported on JLR's move to shift its key fleet accounts to a direct sales model as part of a new strategy.
Fleet changes
Under the new format, leasing companies will transact with JLR directly, with the vehicle then allocated to the driver's nearest authorised Fleet and Business Centre for delivery.
All JLR fleet customers will receive a full handover from a retailer under the new model, the OEM said.
Smaller fleets and small-to-medium enterprises (SMEs) will continue to transact with their local dealer directly until the agency model is adopted in 2024.
Speaking to Fleet News, JLR's general manager for fleet and business Andrew Jago (pictured) said: "Anybody who drives a Jaguar Land Rover vehicle has made an informed choice to drive that vehicle and I think it's really important we recognise that in the experience we deliver.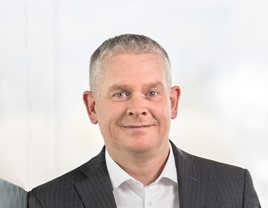 "Having a direct brand relationship with our customers allows us to give a great modern luxury purchase and ownership experience, but also the opportunity to renew it at the end.
"We want to strongly move away from preferred supplier arrangements where you've got groups who are taking orders for leasing companies and then delivering cars to customers through third party logistics companies.
"There's no proper handover, there's no introduction to the service department and there's no ultimate relationship with the brand."
Around a third of the JLR retail network is currently recognised as a Fleet and Business Centre.
Jago told Fleet News that this gives sufficient geographical coverage, but added that it would remain under review.
Jago added: "Utopia, for me, would be that every retailer can really deeply understand and support the needs of the fleet business user, but I won't compromise on that just to just to say we've got full coverage.
"We want to make sure we are really putting our arms around those customers and are doing the job properly."