Ford once again led the UK's new car registrations recovery to put it in pole position to finish 2022 as the UK's best-selling automotive brand.
The blue oval was not alone in delivering growth, however, as the sector's OEM giants all contributed to last month's 23.5% year-on-year growth, reported by the Society of Motor Manufacturers and Traders (SMMT) today.
Ford was November's best-selling brand after its registrations rose by 94.7% to 13,295, leaving it 1.9% up year-to-date with 108,072 units finding new owners.
Volkswagen grew by 41.5% to 12,804 units to leave it down 19.5% at 104,975 year-to-date.
Also among last month's winners were: Toyota, up 62.9% to 8,341; Audi, up 49% to 10,193; Nissan, up 39.5% at 6,817; MG, up 104% at 4,749; and Vauxhall, up 26.4% at 7,710.
New to the UK, Great Wall's Ora electric vehicle (EV) brand also flagged-up on the registrations totals, with its 42 registrations outpacing a quiet month for Tesla, which registered just 11 vehicles.
VW Group brand Skoda also delivered a considerable 80.4% rise in registrations, to 4,130 units, as Cupra once again narrowly outsold its Seat sister brand.
The Catalonian performance car brand – already bolstered by the success of its Born electric vehicle (EV) – saw its registrations rise 104.9% to 1,543 units as it continued to edge into Seat's mainstream territory with the launch of lower-powered, more affordable variants of its Cupra Leon hatchback.
By contrast, Seat's registrations dipped by 38.4% to 1,532 units.
Kia was a surprise entrant among the OEMs which registerted registrations declines during November.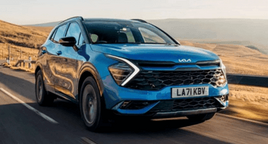 The Korean carmaker, which has targeted 100,000 sales in 2022 with the help of its the AM Awards 2022-winning Sportage SUV and Niro crossover line-up, delivered an 18.8% decline to 6,041 units.
The result leaves Kia 9.34% up year-to-date at 89,146 units, meaning that it must find over 10,000 registrations in December to meet its goal.
Volvo's growth story of recent years also appears to be levelling off.
November saw the Swedish carmaker deliver 2,941, resulting in a decline of 36.2% on the same period last year.
It is now 29.3% down year-to-date at 29,024 units.