US-based dealer group Lithia & Driveway has declared ambitions "to develop a market-leading UK presence" after its acquisition of top 10 AM100 motor retailer Jardine Motors Group.
The £300m takeover means that now three of the 10 largest car dealers in the UK are owned by American companies.
Sytner, no.1 in the AM100, is owned by Michigan-headquartered Penske Automotive Group; Group 1 Automotive UK, no.7 in the AM100, is part of Texas-headquatered Group 1; and the new owners of Jardine, no.9, are based in Oregon.
Neil Williamson, chief executive of Jardine Motors Group, which had been part of the Asian conglomerate Jardine Matheson until the sale, said: "With Jardine Matheson's considerable support, we have successfully implemented our strategy, building a strong position in the UK's premium and luxury motor retail sector, underpinned by high quality relationships with our brand partners.
"We are delighted to have found in Lithia a partner committed to the further growth and development of our team and our network. Their support and expertise will enable us to capture the considerable growth opportunities we see ahead.
"I am confident we will thrive under this new partnership and look forward to working closely together as we realize our growth ambitions in the UK." 
NYSE-listed Lithia recently claimed the title of North America's largest motor retailer, following a spate of acquisitions, and it has 296 outlets in 26 states across the USA and Canada, representing 41 new vehicle brands.
The purchase of Jardine Motors Group is its first expansion in Europe. Lithia was also in talks with Pendragon in 2022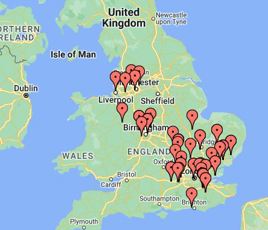 It said Jardine's current management team will remain in place and employees will not be negatively impacted by the takeover, and it will continue to invest in the group, which it expects to generate more than $2 billion (£1.6bn) in annual revenues.
And Lithia feels well placed to capitalise on evolving industry trends, particularly in providing omnichannel and e-commerce options for customers to shop however they desire.
It has an aim to reach $50bn turnover globally in 2025, largely through acquisitions. In 2022 its revenues totalled around $28bn.
Bryan DeBoer, Lithia & Driveway president and chief executive, said: "The acquisition of Jardine Motors Group represents a significant new chapter in Lithia's progress and strategic direction."
"Their complementary business model, sound financial performance and excellent OEM relationships all make Jardine Motors Group the ideal partner for our expansion into the United Kingdom.
"As part of our broader growth plan, we firmly believe the combination of our two businesses will deliver significant value for employees, partners, and customers alike."  
Under Jardine Matheson's 31-year ownership, Jardine Motors Group grew from a family-run vehicle retailer in East Anglia into a large scale automotive retailer, operating from more than 50 locations in the United Kingdom and employing over 2,500 people.
In 2011 Jardine jumped from 9th place to 6th in the AM100 with its acquisition of Wayside, the first major deal since the 2008 economic crisis, however it has since slipped back to 9th place after disposals of some dealerships and aggressive expansion by other dealer groups.
It traded under a variety of brands, reflecting its acquisitions, but in 2013 brought its dealerships under one brand, Lancaster, before since rebranding again as Jardines.
Much management focus has been placed on Jardine's company culture and workforce diversity in recent years, winning it an AM Award in 2020.
Market analysts stated in January that some of the takeover offers seen in the sector currently demonstrate that major UK dealer groups are significantly undervalued by the stock markets.